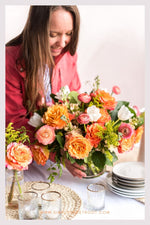 WELCOME TO THE STAGE:
A casual little mix and match profile of our floral collections all inspired
by
CITRUS
. We absolutely recommend creating a custom experience
out of our classic designs by rearranging them, pairing unexpected
color combos, or mixing up your vase choices!
It's 1,000% the way to go.
** EMPHATIC APPLAUSE **
DATING PROFILE:
Citrus loves long walks on the beach, soaking up the Summer sun, and
brunching
with her zest friends. She believes fruity is only skin deep and every
person is truly 
one of a rind. Her favorite movie is Pulp Fiction.
What makes you laugh, Citrus?
"A real orange-inal pun. Eh eh eh?"
I walked into that one didn't I. Alright, next question –
 what's the
most interesting job you've ever had?

"Got a job as a theatre lighting technician once. It was spot on."
WOW, okay okay, I'm into it. Okay, so last question – what's your signature drink?


"Easy peasy lemon squeezy. DEFINITELY an Aperol Orange Margarita."
Good to the last squeeze,
Simply Sweet Root
on product launches, style tips, community events, and exclusive
member discounts and promotions.