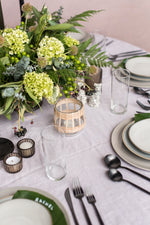 While Simply arrangements are convenient to order and come with a super cool
vase and a happy smile, they ARE missing those bits and bobs called CANDLES. 
 
But, "
a candle with no smell? It makes no scents
" you say! Stick with us

a moment, l
et us explain: Accenting votives add a TON to table.
That soft, romantic mood lighting is an event necessity!
We recommend planning ahead for your event 
by gathering complimentary

votives and tchotchkes 
(
small baubles or miscellaneous items
).
Q: What do you get when you put a candle in a suit of armor?
A: a "Knight-Light" 
Maybe you'll find taper candles laying around your home?

Perhaps you'll order votives in bulk from
West Elm
?

Or perhaps you have a cute shop down the street with the most
perfect set of
salt and pepper shakers.

Whatever avenue you choose – pick the path that suits your event,
suits your flowers, and creates a fun talking point for your party guests.
Style suggestions
: Keep to glass if you are looking for a clean,

minimal design for your tables. BUT, sometimes a wow moment
in an element as small as a votive candle adds just the pop of interest
that your design needs! Time to put a match to flame and a flame
to candle and
LIGHT UP YOUR PARTY WORLD
!
Cheers to your next flower party,
Simply Sweet Root