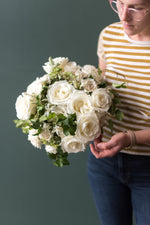 Congrats on your upcoming wedding! Perhaps you've always pictured a small gathering with your
immediate kin. Or perhaps you've had your big plans derailed and you are planning something extra small
this year just to BE MARRIED already! Even though it's different than you may have originally planned,
we are sure that it will be meaningful and special!
We are HERE to help! Did you know that you can turn any of our centerpieces into a bouquet?!
Just select the "Turn this into a bouquet" from the "vase" drop down menu.  AND BONUS, there is
no additional cost - woot woot! For a bridal bouquet, we recommend choosing from one of our
centerpiece styles; for a posy or a bridesmaid bouquet, choose the "accent" size arrangement.
While we do not have any boutonnieres or personal flower options here at Simply Sweet Root, we understand
that this is an unusual time and we want to do what we can to make things a little simpler for you.
We would be happy to provide one complementary boutonniere to coordinate with the bouquet selection ––
just make a note in the comment section when you place your order and we will take care of it!
As with all fresh Simply orders, we'll need at least 14 days notice, so place your order with time to spare!
We have delivery and pick up options (within 60 miles of Alexandria, Virginia).
With Love,
Simply Sweet Root